News
Civil Society and Charities Help Develop the Aviation Sector in West Africa

Viewed 497 times
"Take a short break with ENAC Alumni summer issue and discover articles from our previous mag"
There are huge challenges for the aviation sector in Africa. The population of the continent is set to double in 2050, reaching 2 billion individuals. The lack of road and rail infrastructure, which is harder to maintain than airports, in addition to more regional and sub-regional routes, naturally puts African aviation in a positive light.
There is a need to train over 20,000 pilots in Africa by 2036 and this figure could easily be multiplied by 5 if we were to take account of the estimated training requirements for the whole sector (managers, technicians and ground staff). Our school just had be part of this movement because of our position, expertise and special relations with Africa.
Although various partnerships have been set up by ENAC with African countries for many years, as former ENAC students, we also wanted to lead this movement with its three-pronged approach:
Reviving the ENAC Alumni network in the region,

Strengthening measures favouring the gradual, bottom-up training of a future generation of aviation executives (ASEPMA measure),

Improving continuous professional development for working executives and students in higher education (MBA) wanting to join the aerospace sector to meet current demands (CEFAC measure).
Reviving the ENAC Alumni network in West Africa
Following the momentum that started around a decade ago, in Senegal we started to revive the ENAC Alumni network in 2018, with the aim of improving discussions with other ENAC Alumni in the sub-region (sub-Saharan West Africa)
The action taken has mainly been based on identifying ENAC Alumni who are currently working or retired, and having them actively take part in discussions with ENAC and other alumni. The aim is to strengthen the network, identify who does what and be able to hold regular discussions via after-work events, enabling people to get to know each other better and help each other if necessary.
A second goal is to identify actual needs in the sector and professionals in the area, so as to speed up development.
These measures also resulted in identifying actual projects in Senegal (CEFAC and ASEPMA, see below) in partnership with charities, schools and French and African professionals.

ASEPMA measure
The Senegalese organisation for promoting aviation professions (ASEPMA) was created in 2014, resulting from the desire of students and professionals to promote information on aviation professions and make this culture accessible to young people from all backgrounds to enable everyone to experience this passion.
ASEPMA also supports pupils and students in developing their aviation knowledge via various educational programmes. So as to have a social impact, it raises awareness amongst the youngest children in nurseries with fun and educational workshops on creating mock-up aircraft and learning the aviation alphabet. This pilot programme was a real success and is now in the development and adaptation phase in primary and secondary schools as well as sixth-form colleges.
The organisation also wanted to help define career plans for college/university students in the aviation sector. For two years, it has been organising sessions to prepare for the competitive entrance exam to the African Meteorology and Civil Aviation School (EAMAC) with professionals from this school.
The other side to ASEPMA's work is to promote the pooling of local African and international skills via various collaborative development projects, supported by the Senegalese Ministry For Air Transportation and Airport Infrastructure Development. In this context, the following have been taking place:
Collaboration with the Latécoère-Aéropostale Rally and the charity Un morceau de Ciel Bleu in Toulouse on establishing the Latécoère certificate in Senegal, which is equivalent to the French BIA [Introduction to aviation] qualification. Special attention is being paid to the accessibility of this aviation culture amongst young girls, so in 2018, this Latécoère certificate training was given in the Maison d'Education Mariama BA, Gorée Island.
This is an educational project in partnership with Un morceau de Ciel Bleu and the ENAC solidarity office.
The mid-term objective of ASEPMA is to develop partnerships both on a local and international level to support the education system.
For more information, take a look at the ASEPMA website.
CEFAC measure
The civil aviation training and research centre (CEFAC) is a private structure composed of executives from the aviation sector, managed by Babacar Ndiaye. It covers training needs in the sub-region, based around three areas:
Training working executives by creating specialised Master's degrees: discussions are under way with ENAC to roll out the specialised Master's in Air Transport Management in the first quarter of 2019, which will train executives working in local public and private companies and MBA students interested in the aviation sector. The qualification awarded is from ENAC with international accreditation, for year groups of around twenty students. Immediate needs are based on the ambitious programme to establish regional airports in Senegal, as well as the need for a new international airport and affiliated service providers (handling companies, etc.),

Providing continuous professional development for executives with modules relating to safety as well as infrastructure, equipment and aircraft maintenance,

Giving training in English (preparation for and exams in TOEIC and FCL-55 for executives and regulated professions).
Un Morceau de Ciel Bleu (MCB)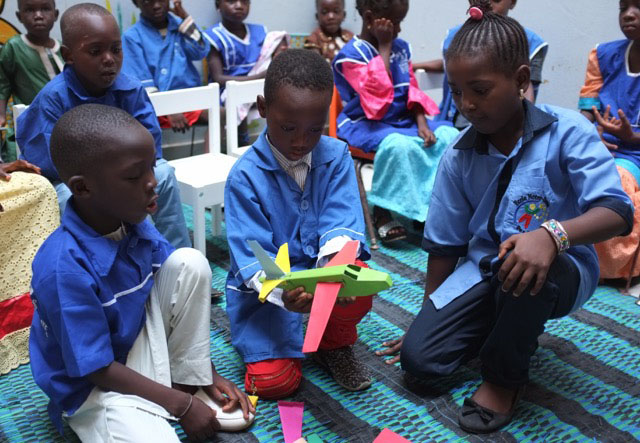 Un Morceau de Ciel Bleu (MCB) is an organisation created 8 years ago by Philippe Le Bris and Jean-Pierre Celton from ENAC, which aims to enable young people completely disconnected from the world of aviation to achieve their dreams of flying high.
Going to secondary schools in impoverished areas of Toulouse to speak to young adults in vocational retraining facilities, trainers from the organisation have developed suitable tools to enable these young people to pass the BIA [French introduction to aviation qualification] rather successfully.
Since last year, meeting with ASEPMA has enabled us to transfer certain skills acquired in MCB to this local structure working in Senegal.
ENAC Alumni was interested in the projects and was impressed by the infectious energy of both organisations.
Quickly, two areas were defined with the Alumni managers:
- First area: developing education and awareness raising for members of this organisation in Senegal who would like to take part in youth training action in the country's schools,
- Second area: finding partners from ENAC Alumni to support and organise a trip to Toulouse for young Senegalese people wanting to have a career in aviation, to provide them with more confidence in their choice and help them learn about all aspects of this business in the Toulouse area.
In addition to these two future projects, ASEPMA and MCB are helping develop a BIA-type aviation qualification with the Senegalese authorities.
About the authors
Babacar Ndiaye

I graduated in IEEAC 1985 S and started my career in military aviation in a TRANSALL C-160 after spending several months in ASECNA, Dakar as Department Manager. I then started managing civil (Spot 4) and military (Helios 1) satellite programmes before following the development of the MATRA Group (now Lagardère) in the media after it left EADS. I studied for my Executive MBA from HEC between 2011 and 2013 before starting a career in consultancy in Media and Aviation sector companies. After 2 years as Secretary General of ENAC Alumni, in charge of the Ile de France network (2016-2018), I decided to take on the challenge of leading our network in Senegal.
Bamba Fall

I started my career as an Aircraft on Ground Coordinator at Grenoble airport. With this experience under my belt, I decided to broaden my knowledge in air ops by joining ESMA. I was able to then use the skills I gained with ASL Airlines. Next, I wanted to move towards a managerial role so I studied for a specialised air transport management Master's degree from ENAC. This training enabled me to join Sky Handling Partner at Dublin airport. I am a very energetic person, so I joined emergency aviation logistics for AOG situations with OEM Services. At the same time, I wanted to share my skills and professional experience with young fans of aviation in Senegal. I therefore took the initiative to create the Senegalese organisation for promoting aviation professions (ASEPMA). Today, my role is to coordinate the organisation's activities and develop partnerships. Since 2018, I have also been a member of the ENAC Alumni board of directors.

Find the whole file "Travel inside the Alumni networks" in the Mag#24 of ENAC Alumni
---
I like