News

2nd edition of "Hack'célération": inventing green aviation

Viewed 338 times
ENAC students are organizing the 2nd edition of "Hack'célération", the largest student Hackathon in France to invent green aviation.
FlyImpulse, ENAC's entrepreneurial association, is organizing an inter-school Hackathon from February 10 to 12, 2023 on the ENAC campus and has decided to act at its level and without waiting to be in the professional world to contribute to a change towards a greener aviation, a more sustainable aviation.

Greening the aviation sector, mission impossible?
Making air transport the first carbon-neutral mode of transport by 2050 is now a global commitment by governments and not just by the industry. This is one of the biggest challenges of the next three decades in the fight against climate change. Air travel remains the only way to connect continents and it is now that viable solutions must emerge to reconcile air transport and respect for the environment.
Air traffic pollution is not limited to the sole problem of kerosene and CO2 emissions into the atmosphere: the materials used to build airplanes are, for example, being questioned. So what solutions can the aeronautical sector find to meet these energy and environmental challenges in order to reach the objective of carbon neutrality as soon as possible? 

Why a hackathon?
The Hack'célération 2.0 aims to get people to think together, in a collaborative mode, about original and innovative solutions that meet the challenges of the sector. A pure moment of collective creation, exchange and sharing of experiences.
The Hackathon takes place in a fixed time that teams can freely exploit and that leads to a deliverable (application, file, model...,) supported by a pitch and evaluated by a jury.

Participating schools:
This year, FlyImpulse invited 100 students (twice as many as last year) from 10 major Toulouse schools: ENAC, ISAE-SUPAERO, IPSA, INSA, ENSEEIHT, ENSIACET, TBS, ISTEF, TSE and TSM. Divided into 20 groups of 5 students, these students will have to pool their respective skills to propose innovative and concrete solutions. The goal? To mix the profiles within each team in order to create "small start-ups" where engineers will bring their technical vision and sales people their market vision.

The partners: 
Like last year, ENAC, GIFAS, Capgemini and SII will be sponsors of the event. For this new edition, we join: Embraer, Transavia, CGX AERO, Ascendance Flight Technologies, Click & Take off, ENAC Alumni, 3AF, BDE ENAC, ENVOL Junior Études and Airexpo.
Thanks to its partners, FlyImpulse has raised more than 30 000 € of funds which will allow to entirely finance the event and to reward the best projects with numerous exceptional prizes for a total amount of 10000 €.
The partner companies will be part of the jury of experts who will decide between the groups during the pool phases and select the 5 finalist groups. These groups will have to pitch their solution in front of more than 200 people on Sunday 12 February in the late afternoon.


Mr. Clément BEAUNE, Minister in charge of Transport, will express his support to this event during a message addressed to all the participants at the Hackathon final.
Mr. Damien CAZÉ, Director General of the French Civil Aviation Authority, salutes this great student initiative which illustrates the will of the new generation to transform the aviation of tomorrow.
Moreover, FlyImpulse will have the pleasure of welcoming Mr. Maxime BOYER, Vice-President of Toulouse Metropole and Deputy Mayor of Toulouse, during the final of the event.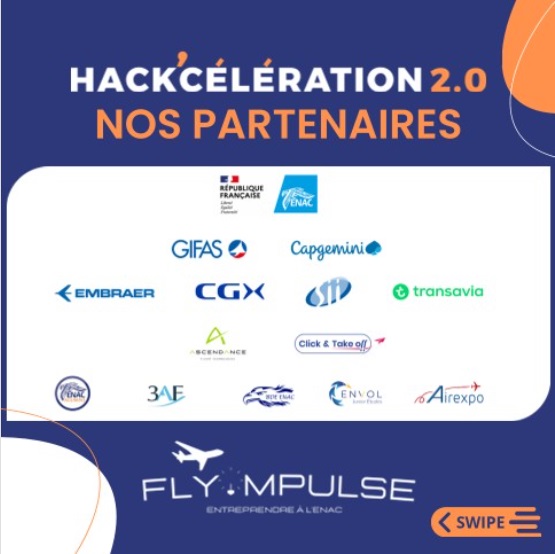 ---
I like