News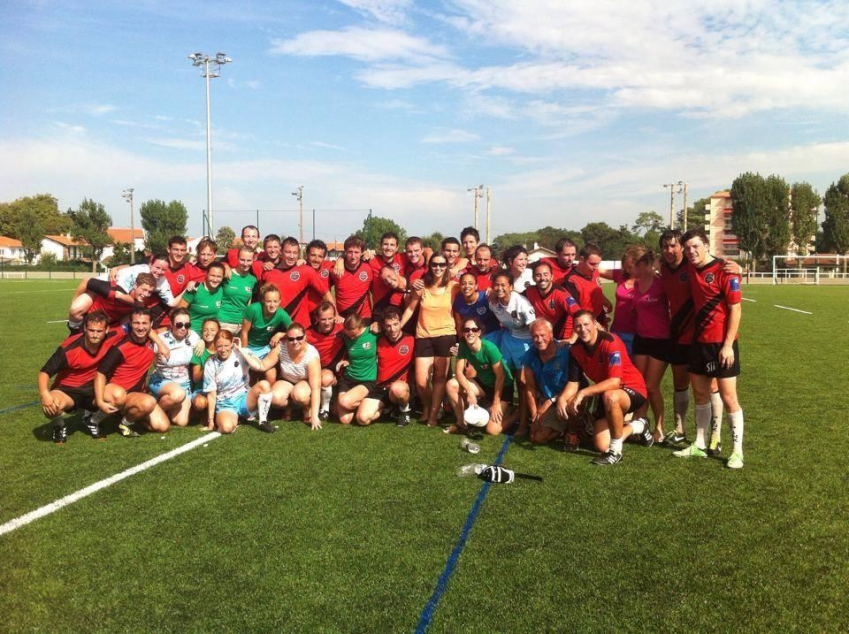 The Pink Floyd play rugby

Viewed 1374 times
« Pink Floyd Rugby » is a 1901 Act association for ENAC (National School of Civil Aviation) graduates, former players of ENAC Rugby team. The association was born in 2009 following an observation: New ENAC graduates dive into their professional lives and lose track of each other despite all the efforts of ENAC Alumni. At the initiative of Jean-Luc SALINAS, Thibault LANG, Olivier CLANET and Kevin LE VOT, it was decided to set up a small-scale entity whose underlying thread would be rugby. The key to success would be the creation of a team of former students able to take part in annual sporting events.
For the record, the name of the association is a wink to a typical phrase of our team (XV ENAC) coach Patrick VALERO, describing as « Pink Floyds » players who are not fully committed (in the game).
In 2013, under the impulse of Jean-Luc SALINAS, Marie GOWER, Patrick VALERO and thanks to the support of partners like ENAC and SII Sud-Ouest, the association was able to set up a ladies team called « Pink Girls » or « Pinkies ». Today around 60 former students of ENAC promotions from ENAC 97 to ENAC 2014 are members of our association accounting for 18 generations of players rubbing shoulders each year during various events like:
The TRACE, the Civil aviation and ENAC Rugby Tournament gathering each year all the Civil Aviation and meteorology staff with ENAC former and current students.

The LARGE, League of former rugby players from the Grandes Ecoles ( French Elite Schools), gathering every year, around a rugby tournament, alumni of Grandes Ecoles like : Centrales, les Ponts et Chaussées, ( Roads & Bridges) Sciences Po (Political sciences) and Business schools etc.
The association has :
organized in 2013 The LARGE in Toulouse and it was a huge success with more then 400 players attending among which 80 women (a record !)

taken part - along with XV ENAC and the ENAC Office of sports – in the organization of the TRACE in Toulouse in 2015 gathering 160 participants, gentlemen and ladies : Paris Athis, CRNA of Reims, XV Farman, XV ENAC and Pink Floyd.
The participation of the « Pink Floyds » in at least two tournaments per year allows the creation of a virtuous dynamic as well as bringing a team closer together through sweating and the sheer pleasure of seeing each other. The association has not only been set up to gather but to create a one-for-all, a « family » with its memories and projects.
The aim of the association is not only about rugby per say. It also aims to gather friends as well as welcoming every year new ENAC graduate willing to keep playing rugby through the« Pink Floyd » venture. Pink Floyd Rugby acts as an incubator for generations of ENAC Alumni who used to be members of the XV ENAC; in this meaning, generations of players add up over time.
The association helps develop and sustain a true network of Alumni. It serves as a generational bridge and that is its greatest wealth. Through precise events it also brings closer together graduates and students. Its members are also fully committed to training tomorrow's ENAC engineers by participating in ENAC career forums with 25 «Professional referent» members while providing internships and job opportunities.
In 2015 a « Basque Pelota » branch was set up inside the association. It helps keep the contact while ensuring regular exchanges around a sport, particularly for retired players. Today it has 13 players.
Throughout its activities the Pink Floyd Rugby association thrives to preserve and develop the wonderful values of rugby.
Find in next news, Patrick, Lionel, Odile, Jonas et Pierre interviews !
Follow them in Facebook
---
I like