Summary of Findings
The deliverables of the research project on The Future of Airports are being published on the website of ENAC Alumni. The summary for Topics No. 5 to 11 will be released on this page in February 2020. The white papers and posters of the first four topics are available in the section Publications.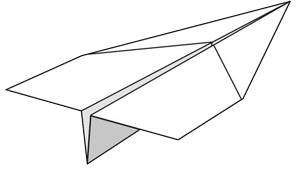 Topic No. 1: The World in 2040 and 2070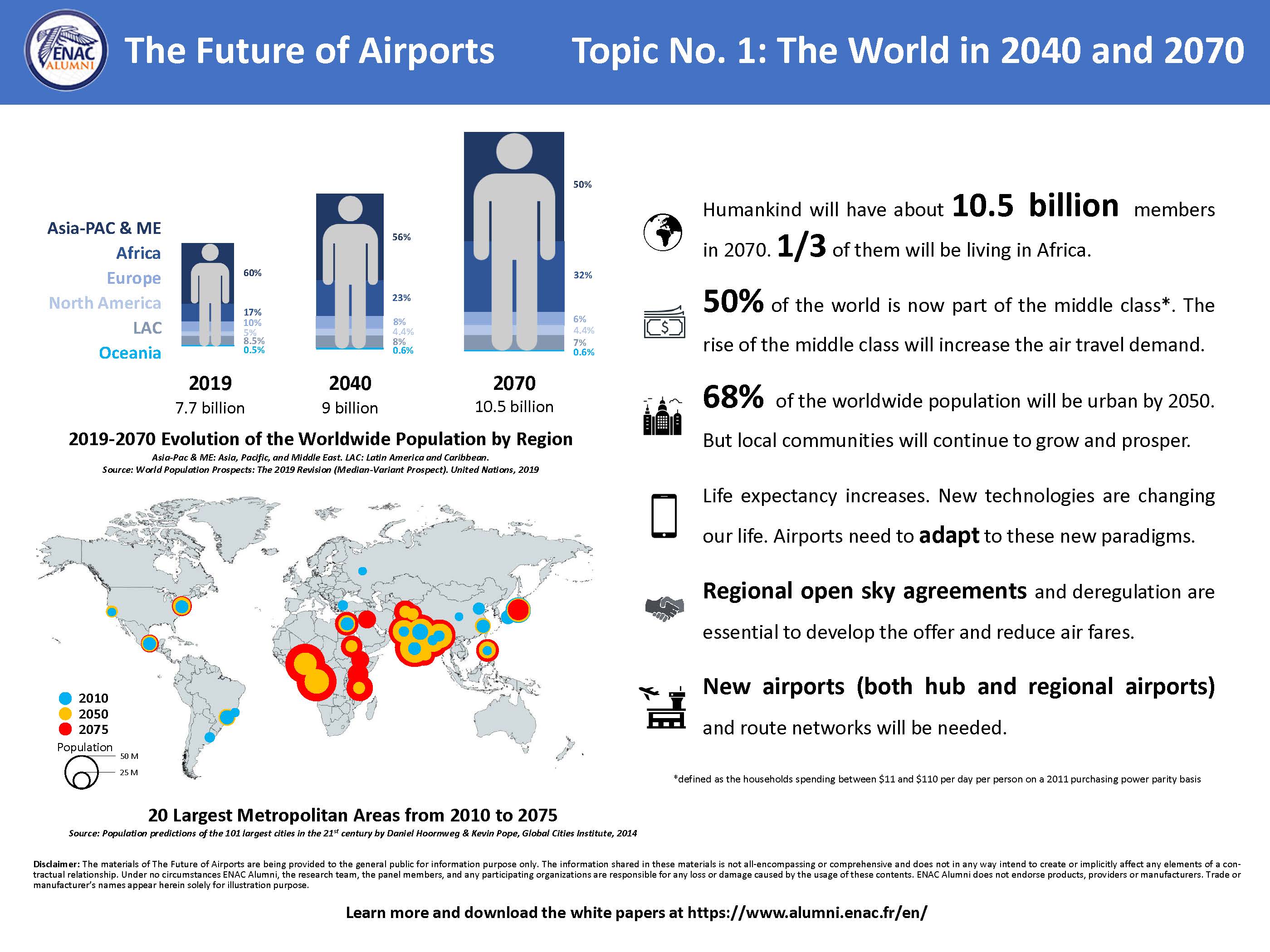 There will be around 9 billion human beings in 2040, and then 10.5 billion in 2070. Most of this growth will occur in Asia and Africa. In the meantime, living conditions in the emerging and underdeveloped regions will improve. This might lead to a dramatic increase in the air travel demand that will call for new airports and more regional integration. After Europe, Africa (SAATM) and southeast Asia (ASEAN-SAM) are on their way to becoming the next single aviation markets.
About 68% of the worldwide population will live in urban areas in 2050. The growth of megalopolis will create challenges in mobility but also give birth to new aviation megacities. The large footprint of megacities and the congestion on the ground might promote multi-airport systems and secondary airports. Smaller and rural communities could revive or grow with people looking for another way of life. Local airports will continue to play a vital role in connecting them to the world.
Wages are increasing in developing countries. Carbon taxes on transportation are in discussion. Producing on the other side of the world is not as profitable as it was. Workers of western nations ask for relocating production and jobs. A growing number of consumers buy locally and call for a circular economy. The relocalization of the production of goods and its decentralization to more local sites fostered with a revolution in tooling and industrial processes (e.g. 3D printing) can deeply impact air cargo.
Life expectancy is improving worldwide. The population will continue to include a growing number of elders, healthier and wealthier than their forefathers. Children born after 2000 are growing up with information technologies. Hyperconnected, the communities of 2040 and furthermore 2070 will not have the same notion of time and space. Future airports will have to address and reconcile these different needs.
The correlation between human activities and global warming has been widely documented. Current policies and effective actions around the world are mostly behind the goals set in 2015 under the Paris Agreement. Facing the most challenging threat of human history, the aviation industry will continue its unprecedented effort to lower its environmental footprint. While the best warming is the one that we do not generate, airports will have to adapt to emit less, but also to be more resilient against climate change.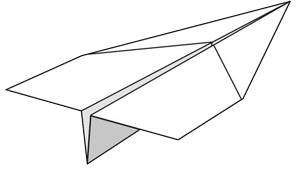 Topic No. 2: Sustainable Business Models and New Sources of Funding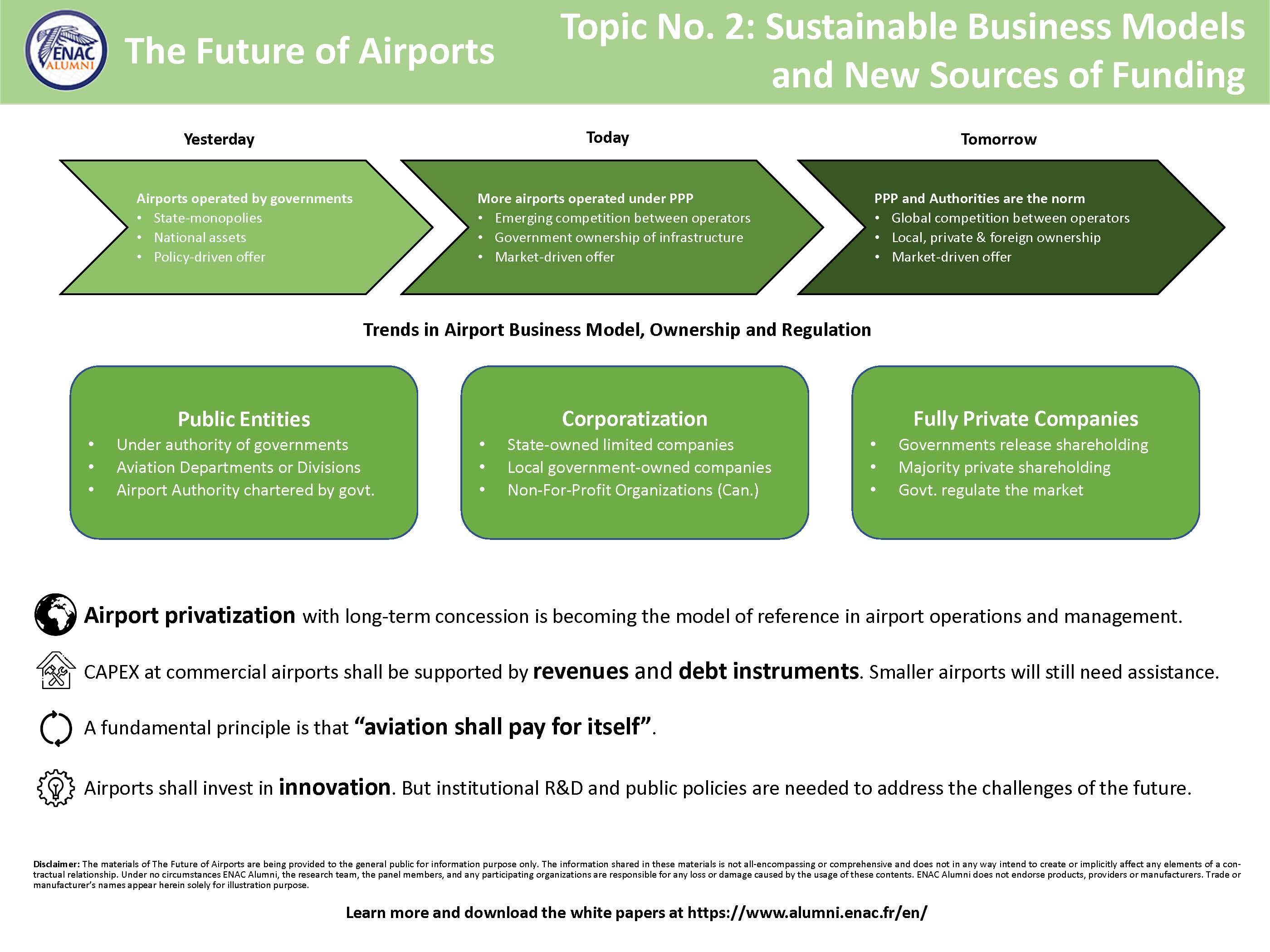 During most of the 20th century, airports were planned, built and operated by central governments as tools of sovereignty, prestige, national defense, and territorial development. In the context of growing ancillary activities and capital expenditure, they were then turned into organizations created for operating airports often with a private corporation status and state-ownership. This move toward more independence promotes a culture of efficiency and a strategic vision, establishes the autonomy of decision from other governmental priorities, and enables an autonomy of the governance itself from political agendas as well.
Airport privatization might be seen as the next step of state-owned corporatization. There are privatization projects in all the regions of the world – and they take different forms. Public control of airport management is no more a necessity for national interests, and private operators are considered as more versatile, cost-efficient and innovative. Therefore, governments can focus on their role of market regulator and safety/security oversight.
Commercial service airports shall be allowed to adequately fund infrastructure maintenance and realistic development through their charges as they can no longer rely on direct public funding. Airport concessions and other PPP shall ensure benefits for both sides, and a fair distribution of profit and financial burden as well. High expectations on infrastructure development from governments that are not consistent with the actual level of traffic can challenge the financial viability of airports requiring vast capital improvements.
These considerations do not necessarily apply to smaller airports. Their financial equilibrium is more often precarious. While some of them might not appear as profitable, their impact on the local economy and connectivity has to be considered too. Several remote aviation facilities providing vital access to the world for air taxi, air ambulance, and subsidized air routes will remain public and require direct funding from local governments or national programs. They cannot be profitable and are not intended to do so.
Several programs exist around the world to ensure airports are safely developed and meet the needs of the nations. Their form and extent depend on the size of airports and the local specificities. These funds usually exclude the terminal facilities from grants. To rejuvenate and develop them, State and regional investment banks can lend money at a lower interest rate as long as the operator is based in the country. In every case, airport operators and governments shall carefully balance the opportunities created by these projects and the level of risk and sustainable debt ratio.
The fundamental principle is that "aviation shall pay for itself". Indeed, direct injection of public money coming from the general budget of a state raises legitimate questions on national priorities – especially when projects are not profitable nor necessarily justified from a social profit perspective. Concessions to private operators of infrastructure developed with public money raise also the question of a fair return on investment to governments.
Investing in innovation is crucial not only for the industry but for the air transportation ecosystem entirely. Some larger airport operators have the ambition to be leaders in innovation. However, the groundbreaking trends and transformational changes explored in the next topics (e.g. automation in air traffic management, cybersecurity, etc.) require wider efforts supported by national policies and funding.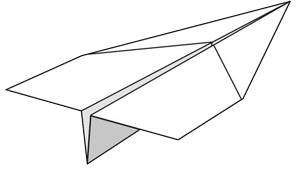 Topic No. 3: Smart Airports at the Era of Information Technologies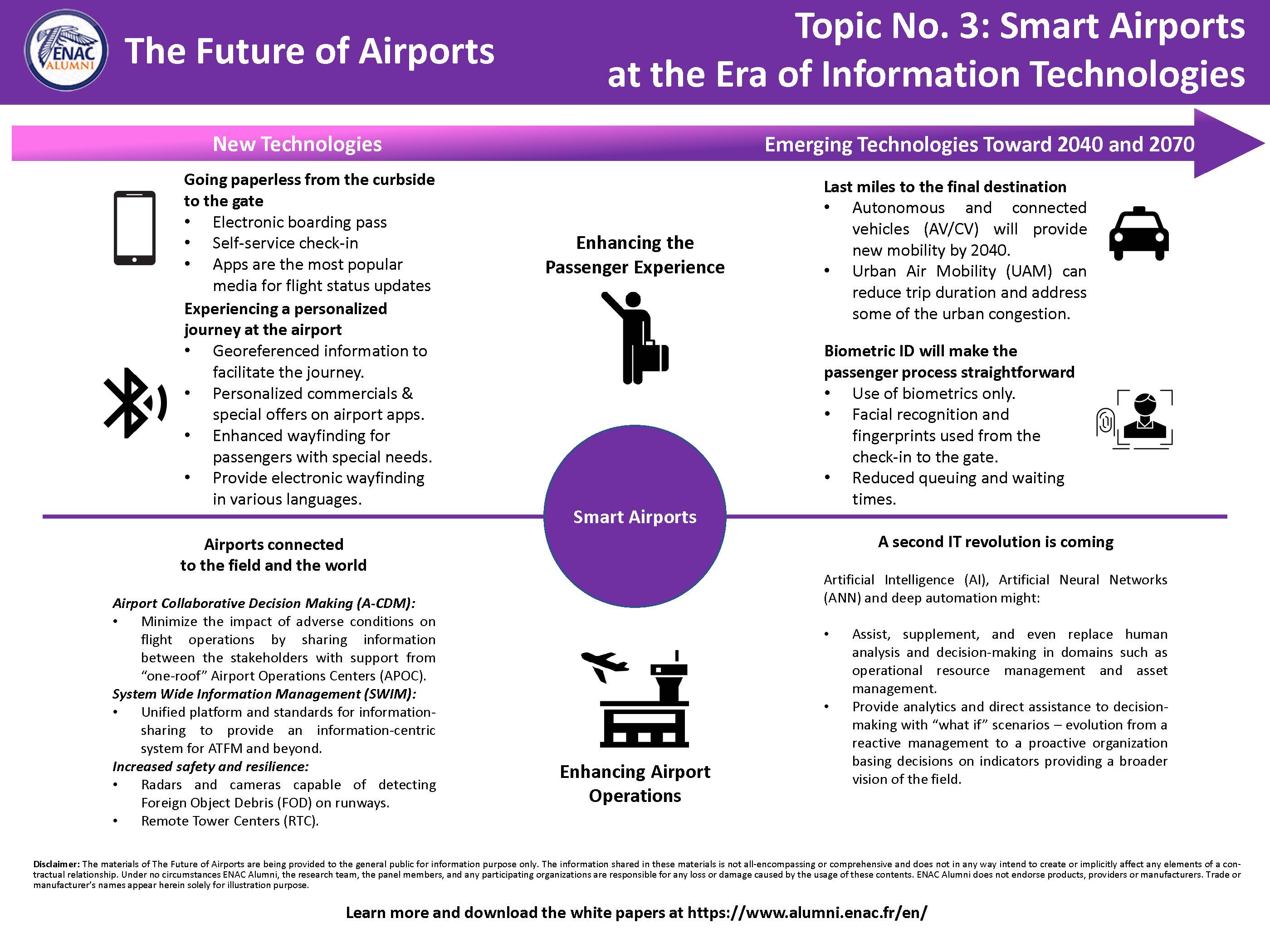 The information technology revolution in the passenger journey is already here. Passengers are exchanging data with and get personalized information from airlines and airports via their smartphones. These connected technologies provide georeferenced information and can facilitate the journey through large hub airports, improving accessibility to travelers with difficulties. In return, these tools of the Internet of Things (IoT) provides to the airport operator and other stakeholders with precious information on passenger flows.
Airports and air carriers have deployed facial recognition to simplify to expedite the process at the gate and minimize the boarding time. By 2040, biometrics will be available at other steps of the passenger journey. Fingerprints and facial identity might be the future "keys" to your flight. At the medium-term horizon, these solutions will reduce waiting times and will increase the automation of control and identification processes from the curbside to the gate, along with other technologies such as the self-service bag drop-off kiosks.
Continuing the digitalization of information initiated with Airport Geographical Information Systems (AGIS), Airport Building Information Modelling (ABIM) will open a new perspective to asset management and airport operations. Remote Tower Centers (RTC) will increase safety at airports with low-intensity traffic that are or might become non-towered, or with AFIS only. The technologies developed for the RTC might bring augmented reality enhancing air traffic control, increasing safety and resilience at "conventional" towers.
The need to increase punctuality and minimize the impact of adverse conditions on flight operations led to Airport Collaborative Decision Making (A-CDM). This concept relies on information sharing between the stakeholders of the real-time status of each flight. The extension of CDM concepts to the whole airport is called Total Airport Management (TAM), and it is supported by integrated Airport Operations Centers (APOC). At a broader scale, the System Wide Information Management (SWIM) will provide unified platforms and standards for information-sharing with a single point of access to ATFM data.
The collection and treatment of such volumes of data require adequate standards and infrastructure for supporting their transfer and storage. Most commercial airports have now data centers. They will be fed by the Internet of Things (and ultimately the Internet of Everything). Emerging means and processes to analyze data are dramatically expanding the horizon of possibilities. Machine learning and artificial intelligence can extract patterns and trends from Airport Operations Data Bases (AODB) for planning, situational awareness or decision-making purpose.
Deep learning using artificial neural networks (ANN) and deep automation will be the next step and could assist, supplement, and even replace human analysis and decision-making in domains such as operational resource management and asset management. As airports rely increasingly on information systems and data exchange, they become more vulnerable to any disruptions. Upon transitioning to new systems for supporting their operations, airports shall develop IT resilience and contingency plans for business continuity when these systems are down. They shall also consider the cybersecurity aspects of these technologies.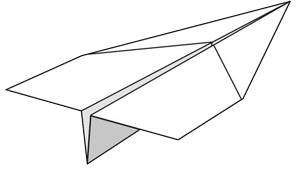 Topic No. 4: Security Threats and Unlawful Activities of the Future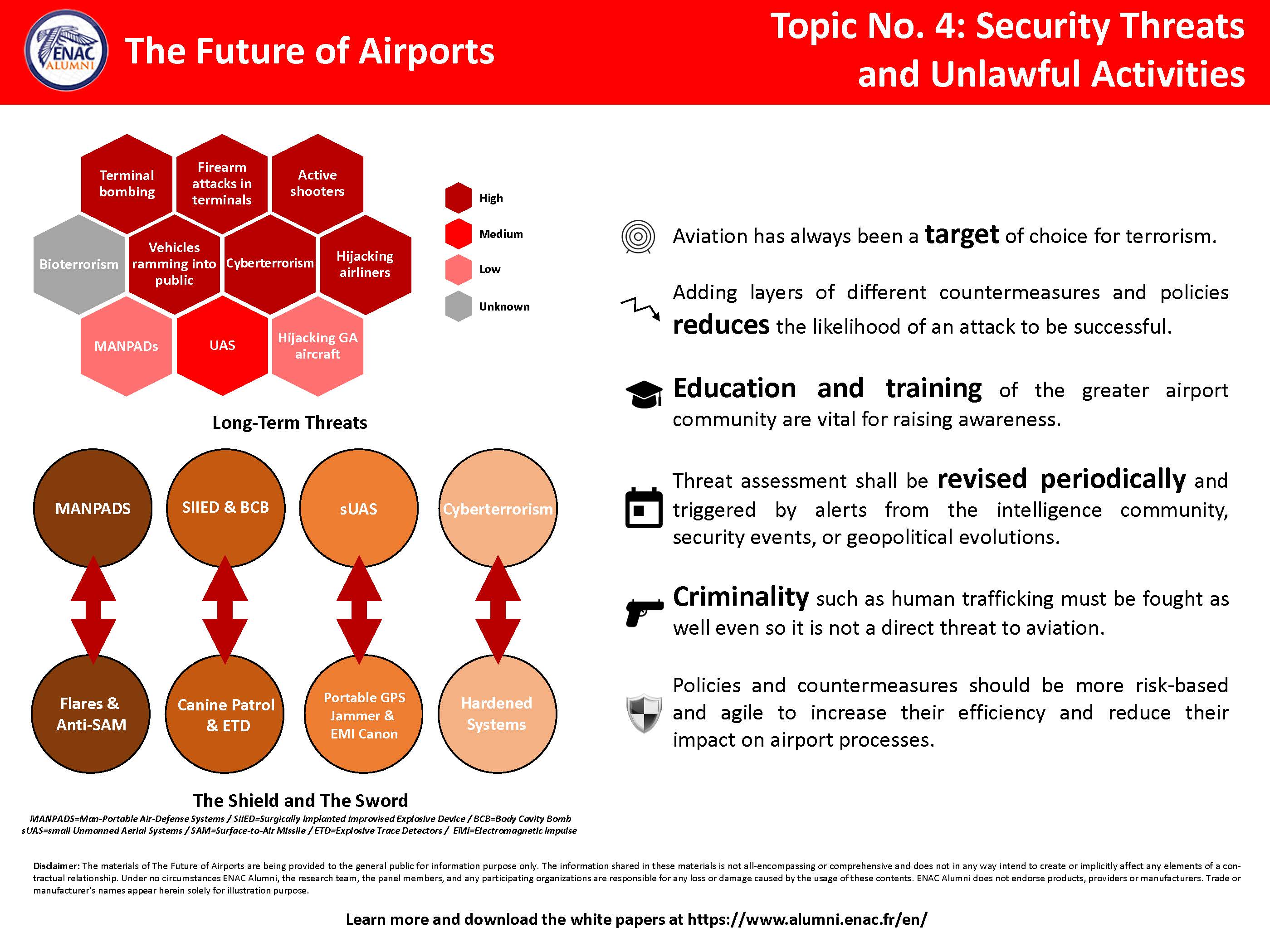 In 2017, then U.S. TSA Administrator Peter V. Nuffenger declared that "there is a spectacular nature to attacking aviation. First of all, it says something about you as a terrorist group if you are able to get through all the systems designed to prevent damage. But it also has a huge psychological impact and a very large economic impact". Which was true in 2017 will still be applicable in 2040 and 2070.
The most common patterns have remained unchanged since the years 1970. Bombing the check-in counters or baggage claim and attacks with firearms by armed groups in the public area of passenger terminals have been used on multiple occasions. These modes of action maximize damages, casualties, and mediatic impact while they are difficult to prevent unless these efforts are identified prior to their action via intelligence and police investigation.
Airports shall never again be the access door to aircraft for terror organizations. In the period immediately following 9/11, the most targeted countries by extremist groups and their followers took exceptional measures to prevent aircraft hijacking and bombing. After multiple adjustments, these standards provide today an efficient security net. The number of hijacking from departing countries where they are implemented has plunged, and the aviation community is now better prepared to counter in-flight attempts.
As in aviation safety, the Reason's model applies in security. Adding layers of different measures and policies reduces the likelihood of an attack to be successful. Because terrorists – unlike safety issues – adapt to countermeasures and innovate as well, these security layers shall be versatile and evolutive. While they are already not the same from a region to another depending on local activities and global targeting of terrorists, they might not use the same layers from airport to airport in the future – depending on the reality of the threat. This risk-based approach is now promoted by ICAO through the GASeP.
State-sponsored cyberterrorism is a growing threat too. Over the past decade, mass cyberattacks with a strong suspicion of State-sponsorship have skyrocketed. Dictators and rogue factions could go further and try to attempt to destroy the integrity of air transportation. Moreover, viruses targeting specific information system infrastructure could get out of control and contaminate critical networks and systems (e.g. Stuxnet, 2010).
Active shooters and suicidal individuals rejecting our society might be a major threat of the future – not only for aviation. Contemporary urban societies that aim at connecting many have created deep isolation of some. Mental illness is growing by the number and can be exacerbated in countries and "cultures" of tight social control with a lack of solidarity. This pandemic is not yet fully recognized by governments and is susceptible to creating new Unabombers and active shooters.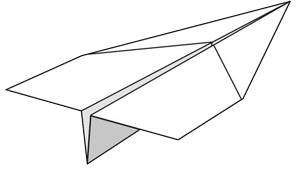 Topic No. 5: Future Issues in Aviation Safety
To be released in February 2020.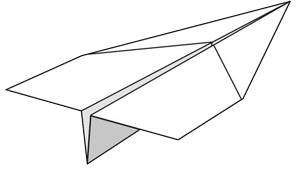 Topic No. 6: Airside and Airspace Compatibility
To be released in February 2020.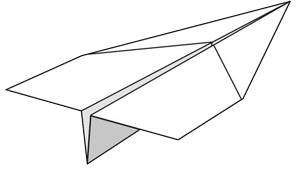 Topic No. 7: Passenger Terminals and Customer Experience
To be released in February 2020.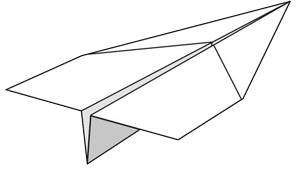 Topic No. 8: Operational Performance and Resilience
To be released in February 2020.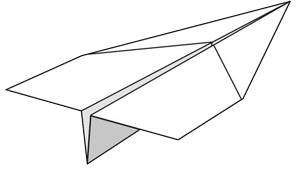 Topic No. 9: Communities and Mobility
To be released in February 2020.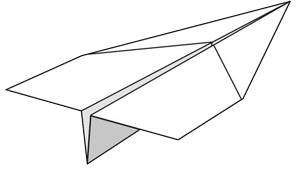 Topic No. 10: Sustainability and Airport-Citizens
To be released in February 2020.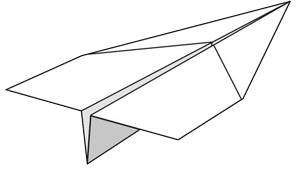 Topic No. 11: Human Resources and Education
To be released in February 2020.